Roofer in Hackney Call 020 7205 5785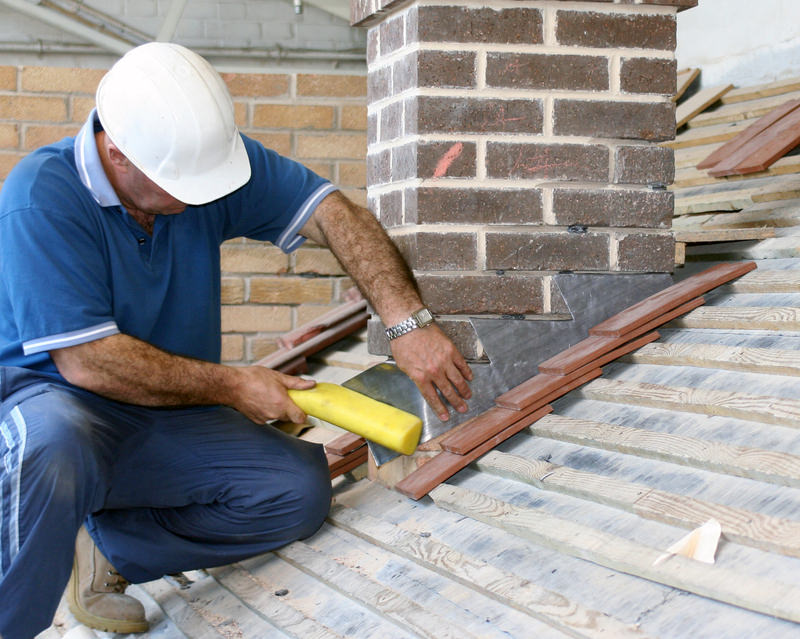 G&A

 Roofing

Hackney

 your one stop roofer, for all your roofing needs. With each 

roofer

 

fully

 

trained

 and with many 

years

 in the 

business.

 
Finding a good Roofer in Hackney
A local roofer in Hackney is a good place to start. A roofer which is a member of the confederation of roofing contractors is another place to look, as each roofers have to undergo rigorous vetting procedures before they are accepted. Another way to find a good roofer in Hackney is a recommendation from friends or family.
Has the Roofer got Insurance?
Has the roofer got insurance? Always ask to see a copy of their insurance. Most Hackney roofers  will be happy to show these documents. Getting quotes in Hackney? It's recommended that you get at least 3 quotes in writing, never accept a verbal quote or from a roofer.
DIY Roof Repairs ?
Should I try fixing the roof myself? Roofs are dangerous places and should be checked by a professional roofer in Hackney. A roof that leaks is due to many reasons, and these may include poor maintenance, faulty roof construction or even storm damage. The first thing you should do is contact a professional roofer based in Hackney. He should be able to diagnose any faults.
G&A Roofing Hackney was founded some 27 years ago, and in 2005 they became a limited company. G&A of Hackney are highly experienced and
reputable roofers who undertake all types of roofing works and repairs. Each Hackney roofer at G&A has extensive knowledge in all manner of roof repairs including but not limited to: chimney re-building, lead sheet work, new roof installations, guttering cleaning and maintenance and repair, soffits installation, moss removal, VELUX, roof windows fitters and we carry out insurance work and roofing reports. Call us today and speak to a real roofer.
Our team of roofers in Hackney are on hand to provide you with the very best service, so call us today on for advice, an estimate or quotation. In addition, G&A in Hackney also provide an emergency repair service for when you need a professional roofer in a hurry.
You can be assured that G&A Roofing Services in Hackney take care of every detail when we undertake a project, we carry out a thorough method and risk assessment before commencing any roof or building work, no matter how big or small the job. So if you are looking for a reputable and trustworthy roofer in the Hackney area then call G&A Roofing Services today on 0207 7205 5785
Roofers Covering 

Hackney

 Districts:
Kenley, Purley, Woodcote, Addington, Upper Norwood, South Hackney, Broad Green, Whyteleafe, Upper Shirley, New Addington, Coulsdon, Ashburton, Sanderstead, Addiscombe, Pollards Hill, Woodside, Shirley, Coombe, Selsdon, Waddon, Thornton Heath, Roundshaw, Hamsey Green, Monks Orchard, Selhurst, Norbury, Forestdale, New Town, South Norwood,, Norwood, Kenley, Old Coulsdon.
Insurance

 Claim

?
 Storm Damage Hackney?
Call G&A Roofing Services in Hackney today to discuss your insurance claim with our trained roofers and whether you have broken tiles, damaged gutters or need a completely new roof we will be happy to assist you and undertake your insurance work. Direct billing subject to contract and excess.
Rubber 

EPDM

 Flat Roofer

 in Hackney:
These roofs are made from ethylene propylene diene monomer which is a type of synthetic rubber material resembling an inner tube. It is a light material and resistant to scuffs, tears and UV rays. Leaks and punctures can be easily repaired/patched and has been in use and extremely popular for over 50 years.
EPDM flat roof systems can be found throughout Hackney in domestic properties and businesses alike and provided they are installed correctly by a professional roofer in Hackney such as G&A they can give many years of excellent protection to your flat roof.
G&A in Hackney also fit flat roof skylights, VELUX and flat roof windows.
Fibreglass Flat Roofer 

Hackney

:
Also known as GRP Flat roofs or Glass Reinforced Polyester, the fibreglass flat roof system can easily offer long term protection and stability for your property, provided it is installed by a qualified team of roofers, such as our friendly team here at G&A in Hackney. This flat roof system is designed to tolerate all kinds of weather conditions and is also fire resistant.
Built-Up

 Felt Flat Roofer and Repairs Hackney:
Or Built Up Bitumen Felt roofs/bituminous flat roofing is the most common type of flat roof in Hackney, this is due to their lower cost and durability. They are made of a very strong multiple layered felt material and these flat roof systems are highly popular for roof terraces and balconies as they give superb protection in all weathers, as well as being thermally efficient.
Chimney Care

: 

Building

 and Repairs By Expert Roofers in Hackney:
Generally the highest point of your property: your chimney can often sustain damage causing leaks and deterioration of flashings and brickwork. G & A Roofers in Hackney are expert in all areas of chimney care and reparation such as lead flashings, re-pointing, rebuilding and even removal.
Gutter

 Cleaning, Maintenance, Repairs and Replacement by 

Hackney

 Roofers:
G & A Roofing Services in Hackney offer a complete gutter maintenance service; we offer gutter cleaning, blockage clearing, repairs and replacement. Your guttering is an integral part of any property and must be maintained correctly in order to keep working as it should and avoid any damage to your property from leaks and blockages as these can stop your gutters working efficiently causing damage to your Hackney property which can be costly. Good maintenance can help prevent damage and give you peace of mind.
Hackney Gutter Cleaners are professional throughout, and offer prices no other legitimate company can match We clean gutters throughout West London. We don't vacuum clean gutters as we tend to find hand cleaned is the better system. If you live in the Hackney area and you need a professionally roofers to do the job properly, contact us for a FREE SURVEY and REPORT.
Washing down-pipes.
Cleaning the fascia and soffits
Fitting newly of the Gutter Guard
Clearing away of debris
Fascias and Soffits in Hackney:
G&A roofers are highly competent and experienced in the installation of soffits and fascias and we fit many quality brands such as Summit and Swish so you can be assured of quality makes and workmanship.
VELUX

 Roof Window Installation Hackney:
Roof windows and skylights are a highly effective way of getting extra light into dark or dull rooms and spaces in your Hackney property. Even the smallest spaces can benefit from a roof window, in the form of a sun tunnel, specially designed to maximise light using very little space. Contemporary style with practicality and state of the art design to transform your existing home into a space full of natural light, giving a new lease of life to unused loft space or dingy landings. Roof windows can easily revamp your Hackney home into a pleasant living space, without the need to relocate.
G&A Roofing Services Hackney are experienced in the installation of all types of  sky skylights, sky tunnels and flat roof windows so if you are thinking about how a roof light could improve your property, give us a call and we can look at the right option for you and your budget.
Roofers Reports and Roof Surveys 

Hackney

:
Our roofers are qualified to carry out roof surveys and reports and will give you an extensive roof report and survey clearly identifying issues or areas of concern. An accurate roofing report and survey includes the checking of timbers, rafters, chimneys, lead and flat roofs and can provide a good negotiating tool for property buyers as well as saving you from any nasty surprises if you buy.
Roofer Inspection, Reports and Surveys Hackney:
Our roofers here at G&A Roofing, Hackney will complete a written roof report from a thorough roof survey that will pinpoint any faults or immediate concerns as well as likely future occurrences. When you are considering a property purchase, roof reports can be extremely helpful and it is advisable to have a roof report done by a professional and independent roofing company from Hackney. We check for damp and dry rot in the timbers, nail sickness in tiles as well as thoroughly checking chimneys, lead flashings, brick work and pointing and all areas of the roof.
Emergency

 Roofer

 and Roof Repairs in the Area Hackney?
In an emergency it is vital that you can expect a quick response time and professional service and G & A Roofing will give you exactly that. On call for urgent repairs, we respond quickly to your call and carry out emergency roof repairs safely and efficiently, fixing leaks and damaged roofs. If your roof has suffered damage or is leaking make sure, you call the emergency roofers that can give you the best service, quickly. Call G&A Roofing in Hackney on  020 7205 5785.
Premier Industrial and Commercial Roofers Contractors Hackney:
G&A Roofing Services have roofers that are experienced and qualified to work with all types of commercial and industrial roofing works and offer a comprehensive range of services so our commercial customers can benefit from our unrivalled experience and expertise. Each roofer has expertise in cladding metal roofs, flat roofs, corrugated systems and we maintain warehouses, workshops, factories and much more. We are here to help all Hackney residence regardless of whether your job is big or small. Our roofers always work to a high standard, and we are proud of our reputation for excellent roofing works and customer services and we will always take our health and safety responsibility seriously, carrying out risk and method assessments, without fail, to ensure the safety of our roofers and customers.
Roof

 Cleaning

 and Moss Removal Hackney:
Regular roof maintenance and care are essential for its ongoing protection and to make sure it stays in good condition. Our roofers will carry out regular roof maintenance services to your specification to help you keep your roof and chimney in good working order, free from damage and deterioration. Moss build up can be contributory to problems and damage to your roof and tiles from the additional weight it can cause to frost damage and gutter blockages from falling moss and leaves. Let our roofers do the cleaning for you. We have very reasonable rates and will do the work safely, quickly and always to your satisfaction. We will tailor any roof or gutter maintenance services to what you want and need so call our roofers today for a chat to start you roof maintenance.
About Clay Roof Tiles
Make sure you do your homework before you settle on a tile for your roof, this is most important as your roof is a large investment and choosing the right clay roof tile is vital. Our roofers will be happy to give you guidance and advice. Clay roof tiles have been around for centuries and are a good option for many roofs.
Flat Roof leak Detection Hackney:
If your flat roof is leaking, it is important to locate and repair it as quickly as you can. That is why the roofers at G&A Roofing in Hackney use modern equipment that can find even the smallest leaks in a short space of time.
Chimney

 Pots

 and Cowls Fitting
Chimney pots and cowls are an attractive and functional feature on chimneys, so don't let cracks and damage ruin their appearance. Our specialist chimney roofers can easily install or re-fit your pots and cowls.
Roof Maintenance Hackney
Make sure your roof stays in good condition by regularly inspecting it and staying ahead of any potential problems. Visual checks are invaluable in spotting many issues that can easily turn into big concerns if left unchecked. Be proactive in the ongoing maintenance of your roof and if you ave any questions or concerns contact our roofers in hackney on 020 7205 5785.
Roof Maintenance

 and what to 

look

 for

:
Look out for tiles that appear damaged or are missing, cement that is powdery or cracked and bricks that seem loose on your chimney stack. These relatively small problems can be repaired at very reasonable rates and quickly too and can almost certainly help limit greater damage or more costly repairs at a later date.
G&A Roofing provide first class roofing services and specialist roof repairs to our customers in Hackney. Our roofers are diligent, professional and trustworthy so call us today on 020 7205 5785.
G & A Roofing have been around and well established for nearly 26 years and as such have gained much knowledge and expertise in roofing works of all types and for all properties, even listed buildings. We have fully qualified roofers to carry out all roofing works in Hackney and the following districts: